Sylfirm X is a dual-Wave RF Microneedling System.
Sylfirm X is a minimum invasive microneedle treatment. It improves skin tone and texture, reduces pore size, wrinkles, and fine lines, and rejuvenates the skin. Sylfirm adds a new dimension to the treatment of difficult-to-treat multiple skin concerns such as pigmentation, wrinkles, redness, acne scar, large pores and dull skin.
Sylfirm X is a dual wave RF microneedling treatment, it combines RF (radio frequency) and microneedling, to improve overall skin appearance, laxity, texture and appearance of pigmentation and scars. Sylfirm X is a single treatment that targets various skin concerns such as pigmentation, wrinkles, redness, acne scar, large pores and dull skin.
Sylfirm X triggers the skin's natural healing process by penetrating the outermost layer of the skin, promoting collagen production, skin regeneration and rejuvenation.
Sylfirm X has been shown to be effective in fixing fine wrinkles, brightening skin tone, tightening pores, curing acne scars, and rejuvenating the skin as a whole.
What does sylfirm x treat?
Sylfirm X treat multiple skin conditions and helps in overall skin rejuvenation by working on various ageing concerns such as – fine lines, wrinkles, pigmentation, large pores.
Sylfirm X gives Skin Rejuvenation by:
Remodelling skin collagen and elastin
Strengthens and improves skin health
Treats the root cause of melasma and other pigmentary disorders
Promotes skin tightening and increase elasticity
Improves appearance of scars and stretch marks
Prevent future signs of aging
Sylfirm X is a minimally invasive treatment, it stimulates collagen production through microneedles releasing RF heat energy. This improves skin tone, refines pores, improve the appearance of fine line and wrinkles and improves the acne scars. Microneedling trigger skin repair and collagen production, at the same time, break down scar tissue.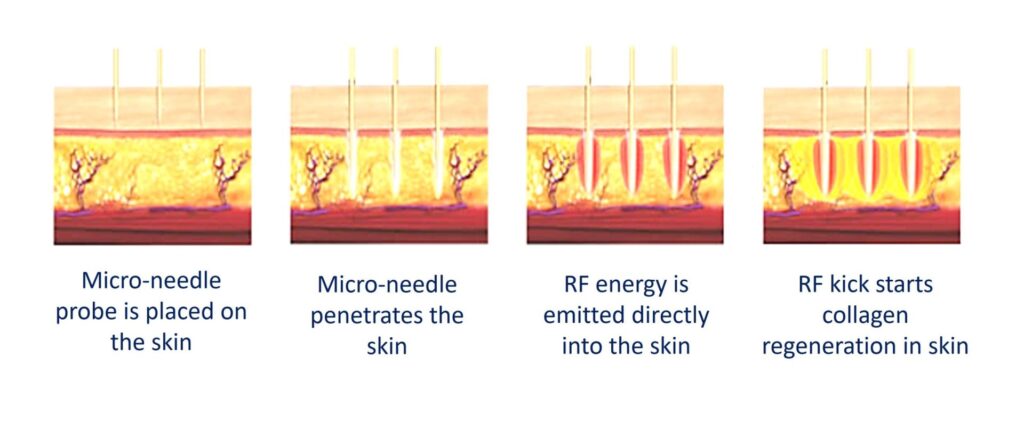 Improving Enlarged Pores, Acne Scars
Skin Tightening, Face Lifting, Wrinkle Reduction
Pigmentation such as Melasma, PIH
Brightening Skin Tone
Rosacea, Sensitive Skin
Reduce Acne scars
How is Sylfirm X treatment performed?
Our doctor will ensure the suitability of the treatment by thorough skin analysis. And explain the Sylfirm treatment and information on addressing specific skin concerns with Sylfirm X.
After the discussion, the skin will be clean thoroughly and a numbing cream will be applied to reduce the discomfort during the procedure. Then the Sylfirm microneedles will be inserted into the skin smoothly. Then the RD energy is delivered via the microneedles that will be pushed into your skin or target area.
Once the treatment is completed the cold gel may be introduced to help with redness and aid in healing.
Who is suitable for Sylfirm X?
Sylfirm X treatment is customised according to the patient's skin condition and requirement so it is suitable for everyone. But we do an initial analysis of skin to determine the suitability and based on the analysis our Aesthetic doctor will make a recommendation.
Sylfirm X is Suitable for individuals with the following skin concerns.
Pigmentation – melasma and rosacea
Skin rejuvenation – enlarged pores, wrinkles, fine lines, rhytides, and skin laxity
Body rejuvenation – turkey neck, double chin, décolletage
Scars – acne scars, atrophic scars, hypertrophic scars, stretch marks
Sylfirm X treatment is not painful as numbing cream will be applied to the treatment area for a comfortable and smooth treatment experience. Most patients experience no pain, and in some cases, they experience a tingling sensation and light pressure on the skin. Individual experiences vary based on skin condition and sensitivity.
How many sessions of Sylfirm X treatment will I need?
Depending on individual skin condition, skin concerns and treatment area the number of sessions is determined. but typically it required 3 to 4 sessions.
What is the Downtime after the Sylfirm X treatment?
There is no downtime post-treatment as most patients can resume their daily activities after the treatment.
Patients may have pinpoint bleeding, mild redness, and swelling right after the treatment as a natural response. However, these may be resolved in 24 to 48 hours.
Our Aesthetic Doctor will provide recommendations on aftercare.
What to expect after the Sylfirm X treatment?
Possible results expected after the treatment are:
Improved skin tone, skin brightening effect
Collagen stimulation for an overall youthful-looking skin
Refine and reduce pores.
Lighten acne scars, pigments and melasma
Reduced fine line and wrinkles
Smoother skin texture
Reduce acne outbreaks and skin irritation 
*Individual results may vary based on skin condition and sensitivity.
For Consultation on Sylfirm X treatment, Visit our Clinic or Book an Appointment for Sylfirm X Treatment