FUE Hair Transplant for Men and Women
What is Hair FUE Transplantation?
The most common and most reliable surgical treatment for hair loss is hair transplantation. Nearly 300,000 procedures are performed annually in the United States. The basis for hair transplantation is that when hair is taken from donor areas where the hair continues to be abundant, such as the back of the head and is planted in areas of hair loss, the transplanted hair will take on the characteristics of the donor area and will continue to grow. Now, Automated Hair Transplantation is modern and less invasive surgery.
Automated Hair Transplantation
Automated Hair Transplantation is an Automated Follicular Unit Extraction (F.U.E) technique. It is a robot using micro-instruments to remove follicular units, which makes surgery simple, fast, and less debilitating for the patient, with more convincing aesthetic results. The hairs taken are immediately sucked up into a sterile catheter and transferred to a small hand-piece that pushes the hair into a small reception orifice by simple pressure.
Advantages of Follicular Unit Extraction (F.U.E)
Less invasive
Reduces operating time
No visible scars
Little or no post-operative pain
Patient can choose the number of hairs transplanted per session
Quality of follicular units taken is guaranteed, together with optimal vascularisation and growth
No general anaesthesia
Suitable for males & females
Hair transplantation results are permanent (grow for the rest of your life)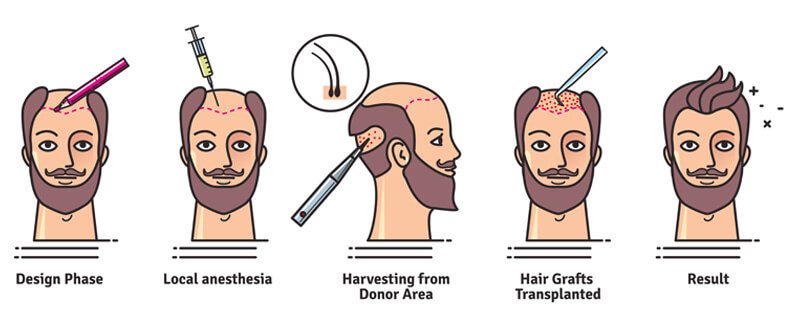 Process of F.U.E. Hair Transplant
The Automated Hair Transplantation technique transplants samples of hair genetically programmed not to fall from a donor site (generally at the back of the head) to the balding recipient site (the areas around the temples and the top of head). There, the transplants retain permanently with the characteristics that they had at the donor site. Since the donor and the recipient site are from the same person, there is no risk of rejection.
On the day of the transplant, patients are given sedation so that they remain still during the procedure. The scalp area to be treated is injected with a anaesthetic agent, and the hair in the donor area is trimmed to a length of 3-4mm. The follicular hair unit is then obtained by a punch technique which is quick and bloodless. The follicular hair unit is then transplanted to the recipient area (i.e. hairline). Transplanting 400-500 hair units takes about 2-3 hours. Patients are then transferred to a recovery room to rest until they are ready to go home. The treated scalp is clean and dry on discharge. Patients then return the next day for post procedure review and can gently wash their hair after 24hrs. Patients can wear a loose fitting cap to cover the treated areas, otherwise there is no need. The transplanted hairs would have taken root by then and will grow like normal hair. It will continue to grow and fall like normal hair, and you can appreciate maximal results in 3 months.
Process of F.U.E. Hair Transplant