Ultherapy is recognized as a Gold standard for non-invasive Facelift
Ultherapy is a newly developed ultrasound technology to tighten the skin and provide more toned, youthful skin. it is a completely non-invasive facelift procedure.
As natural protein collagen works by keeping the skin its youth and glow. But as we age the facial skin and tissues are affected by low collagen production and it starts to lose elasticity, due to collagen depletion. To treat this non-invasive way Ultherapy is an ideal Facelift procedure as it can improve collagen production, rejuvenate & restore youthful skin.
Ultherapy is the only FDA-cleared procedure for a facelift. Ultherapy is a completely non-invasive procedure it lifts, the face, neck, chin, brow, and décolletage. Ultherapy treats damaged tissues without affecting surface skin to restore collagen production and eventually provide a natural-looking youthful glow.
Lifts & tightens skin naturally on the brow, neck, chin
It gives skin a fresher and more youthful look
Improves the appearance of lines and wrinkles on the decolletage.
Stimulates the growth of new collagen to grow within the skin.
Ultherapy works by using micro-focused ultrasound to produce a thermal affect under the skin. This will help the body starts its own process to create fresh and new collagen.
Through the ultrasound imaging with Ultherapy energy is delivered precisely to the place where it will benefit you most—for natural-looking results that improve over time
An ultrasound imaging of the skin tissue is projected onto a screen. Upon identifying the collagen-rich SMAS tissue layer in the skin, focused ultrasonic thermal energy is precisely delivered to this target area, without harming the superficial layers of the skin. In response to the energy, there is an initiation of the formation of new firmer collagen.
Over time, a gradual tightening occurs, resulting in a natural facelift. Improvement in the skin develops gradually the following the procedure, with optimal facelift results seen from the 3rd month onwards.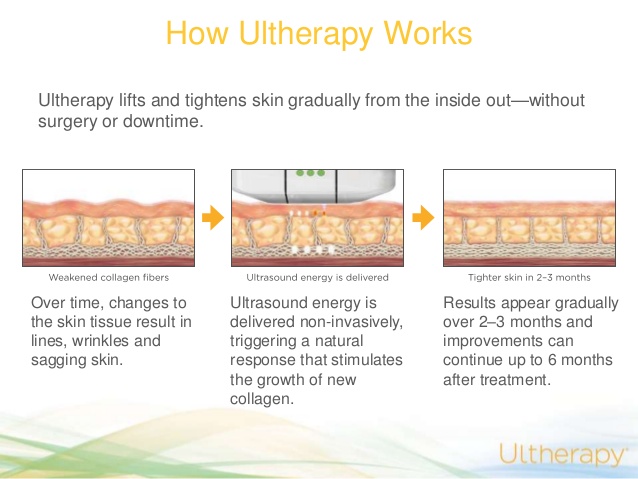 What areas can be treated by Ultherapy?
Face – Ultherapy naturally tightens and lifts facial skin, giving youthful and younger-looking skin.
Brow – Lifts and firms skin in the brow and eyelid area eliminating tired-looking eye area. And provides browlift.
Neck–  Ultherapy rejuvenates and tightens the neck, reviving tissues by improving collagen production.
Chin– Treatment tightens the jawline and chin area providing healthy attractive contours.
Décolletage –  Ultherapy tightens the skin tissues of décolletage giving a smooth and youthful neckline.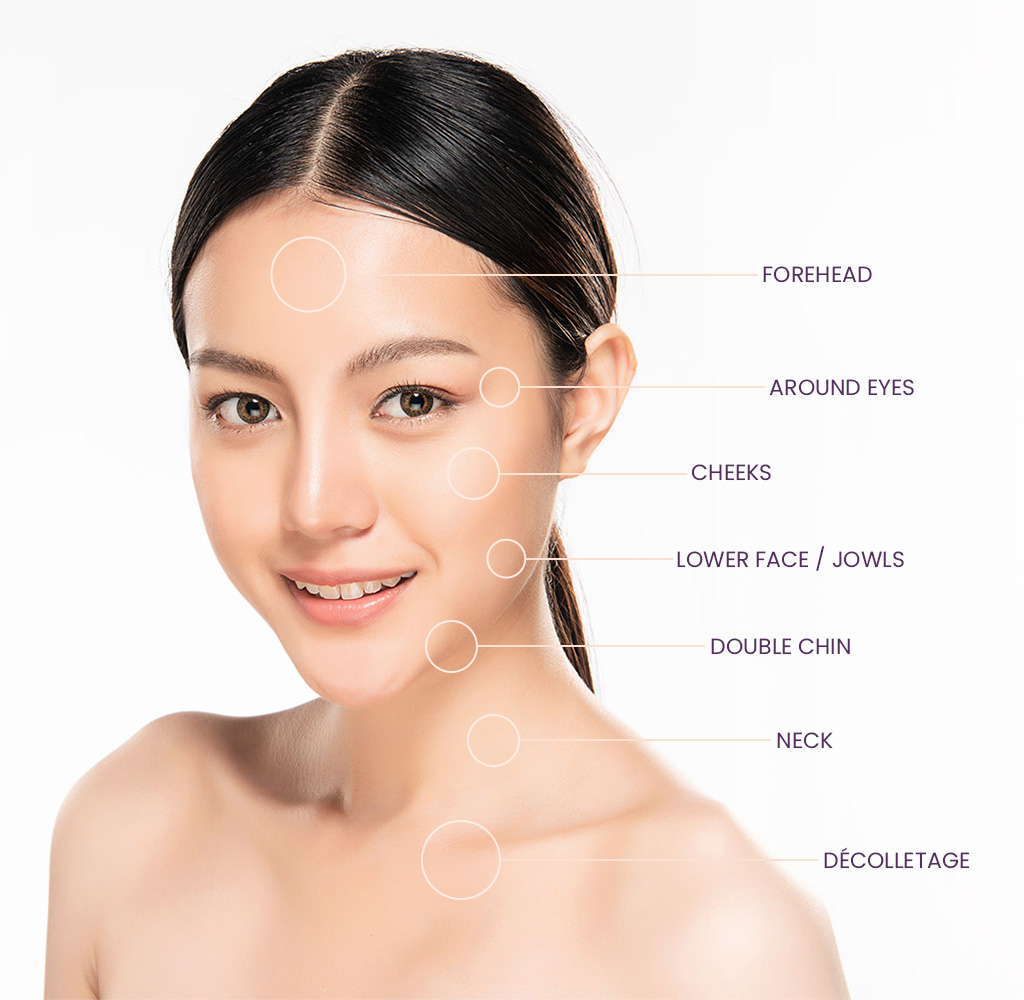 How Soon Results of Ultherapy can be visible?
The results of Ultherapy may appear right after the procedure, as the collagen stimulation process jump-starts. Ultherapy results get clear and more appear over 2 to 3 months as new collagen starts to work to lift skin on the neck, chin, brow and décolletage.
Results may improve further over the following 3 to 6 months and can last over a year or more. Depending on skin type.
How Long is the Procedure?
The procedure time can differ based on the treatment area. Procedure around the chest may take up to approximately 30 minutes and procedure around the face and neck can take anywhere from 60 to 90 minutes depending on the area to be treated and skin condition.
What is the Downtime of Ultherapy?
Ultherapy Procedure has little to no downtime. And one can return to work immediately in most cases. Although some patients may experience some swelling and soreness along the jawline. This is purely depending on the skin condition and it differs from person to person.
An Aesthetic Doctor will analyze your skin type and provide you with detailed suggestions based on your skin condition.
Who is a suitable candidate for Ultherapy?
Mild to moderate sagging of the eyebrows
Lax loose skin on the cheeks
Poorly defined jawline
Drooping corners of the mouth
Mild to moderate nasolabial folds and jowl lines
How Long does the result of Ultherapy last?
Ultherapy Results may typically last for about 1 to 1.5 years after a single procedure. But as every individual has a different skin type, skin laxity, and natural aging process, the results can be different for every individual.