PICO LASER Treatment by PicoLo at NeuGlow Aesthetic Clinic Achieve flawless, younger-looking skin, remove pigmentation and sunspots with
PICO Laser treatment is effective for fine lines, pigmentation removal, tattoo removal and skin restoration.  Pico Laser is used to correct various skin concerns which include pigmentation and dark spots caused by sun damage. Pico Laser treatment penetrates into the deeper layer of the skin dermis to repair skin from deep layers, it stimulates collagen production and reduces the appearance of acne scar, fine lines, wrinkles and pigmentation.
Pico Laser by PicoLO is an overall skin rejuvenation treatment for pigmentation, wrinkles, acne acre without downtime. Pico Laser Treatment  is effective for Stubborn Pigmentation including Melasma, Freckles and hyperpigmentation to allow faster treatments.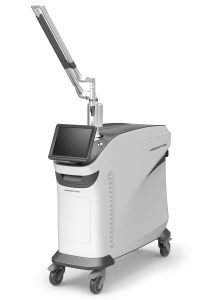 Benefits of PICO Laser treatment by PicoLO?
Pigmentation Removal
Acne Scar Removal
Tattoo Removal
Wrinkle reduction
Promotes skin rejuvenation
Suitable for all skin types
What skin conditions are treated by PICO Laser?
Pico Laser Treatment by PicoLo is a next-generation laser treatment with wavelengths of 1064nm and 532 nm it is designed for pigmentation removal, tattoo removal, Pico Laser by PicoLo also corrects and treats acne scar, dark spots, it is useful for overall skin rejuvenation.
What skin conditions are treated by PICO Laser?
Following are some of the skin conditions that can be treated by Pico Laser Treatment
Solar Lentigo (Sunspots, Age spots)
Melasma
Freckles
Post-inflammatory Hyperpigmentation
Hori's Nevus
Tattoos
Inflammatory Acne
Red acne marks (Post-inflammatory erythema)
Rosacea
Facial flushing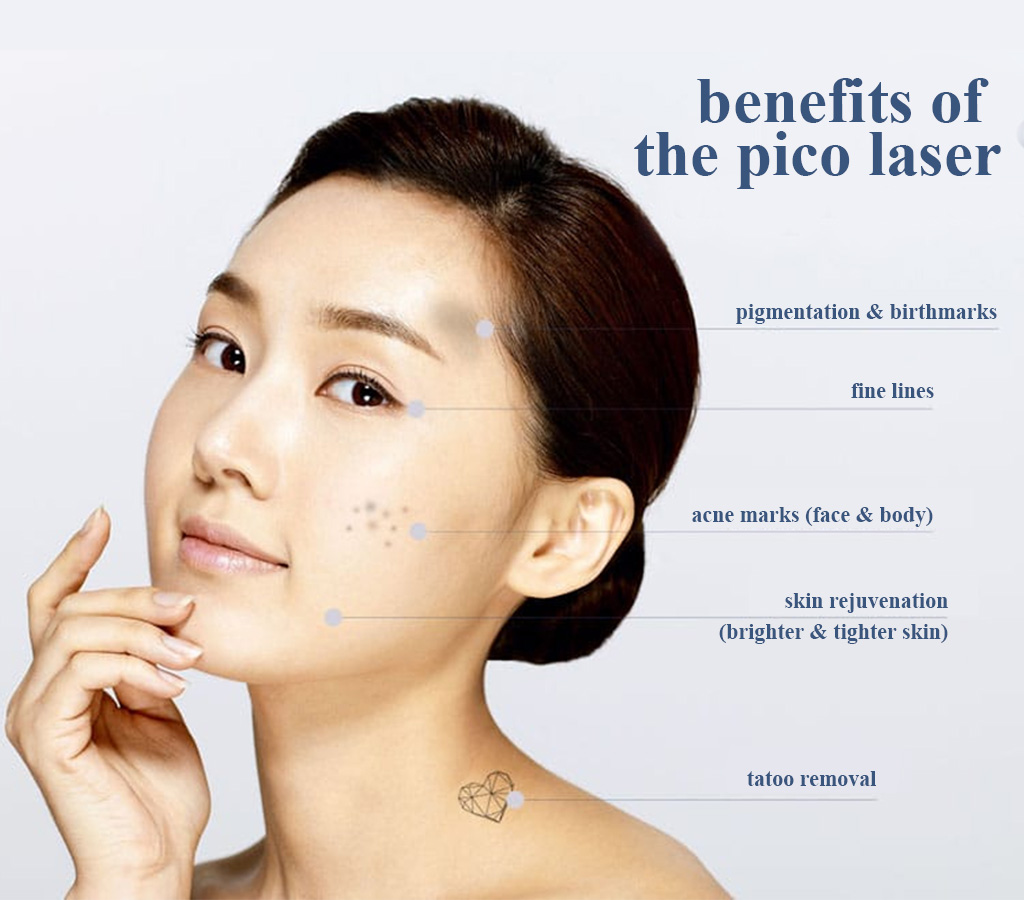 How PICO Laser by PicoLo works?
Picosecond technology is used by Pico Laser to deliver ultra-short bursts of energy to the skin. The PicoLo laser pulse is fast and powerful to change the way the laser delivers energy to the targeted skin cells. PicoLo lase uses photoacoustic impact to target pigmented skin, blemishes, age spots, acne scar or tattoo directly and removes or reduces its appearance without causing damage to the skin.
PicoLo Laser uses nanosecond lasers utilising photothermal emery, it impacts the targeted layer of the skin like shockwave and makes it a safe, capable and precise method for various skin concerns.
How PICO Laser helps in removing pigmentation?
Pico Laser treatment by PicoLo uses an ultra-short pulse to target pigmentation and reduces and removes appears of pigmentation, dark spots. it is effective and causes minimal discomfort, pain and it has very less downtime. Pico Laser treatment by PicoLo provides effective treatment on larger pigmentation spots.
What areas can be treated by PICO Laser?
Pico Laser treatment by PicoLo can be useful and effective for various skin conditions on the face and neck and other parts of the body to remove a tattoo, acne scar and dark spots. Pico Laser by PicoLo can be used for a range of skin ailments including melasma, freckles, acne scars, fine lines and wrinkles, PicoLo also corrects scars, tightens pores, removing tattoos, and provides complete rejuvenation of the skin.
How is PICO Laser by PicoLo different from another picosecond laser?
PicoLo laser is different from other Pico Laser treatment as it delivers energy at a very high speed of picosecond with the strong peak power of 1.3GW and it has a stable pulse duration, so the energy enters and leave skin quicker than other picosecond lasers, it minimises the side effects pain and damage to the skin.
PicoLo has the largest of the variable spot sizes reduces treatment time and the number of sessions required for Pico Laser treatment.
Is PICO Laser Treatment painful?
Pico Laser by PicoLo is not painful it doesn't give any discomfort, and can be performed without local anaesthesia. However, in-case patient is sensitive to pain a topical anaesthetic can be applied to the treatment area.
What is the Downtime of PICO Laser Treatment?
There is minimal to no downtimes after PICO laser treatment by PicoLo. The patient may experience swelling or redness on the treated skin area but it subsides within a couple of houses after the Pico Laser treatment. But it is advisable to avoid exposure to sunlight without sunscreen application to the skin and follow a healthy lifestyle and skincare regime to get a better outcome of the Pico Laser treatment.
How many sessions are required of PICO Laser Treatment?
Pico Laser treatment session requirement is based on the patient's skin condition and what needs to be treated. Our Aesthetic Doctor at NeuGlow can evaluate skin condition and recommend treatment frequency.
How long will the results of PICO Laser treatment last?
PICO Laster treatment result for atrophic and hypertrophic scarring is almost permanent. For other skin condition treatment of Pico Laser, the lasting effect of the result is based on the patient's skin condition lifestyle, age. As it may have an impact on the endurance of the PICOLO wrinkle & skin rejuvenation treatment. To maintain the results follow-up treatment is advised after six months. This can vary from person to person.