Hifu – High-Intensity Focused Ultrasound
Hifu is the non-surgical or non-invasive facelift treatment for the face, neck & chest. HIFU targets deep layers of skin that are not possible to target by other facelift treatments, and accelerates the skin's own healing process on the Face and neck. This stimulates sagging skin and provides skin lifting and tightening.
Hifu treatment work targeting the depths of the skin tightens the different skin layers for optimal results. Hifu delivers heat energy to the skin and subcutaneous tissues to encourage the cells to produce new collagen, improve skin texture, reduce sagging and increase firmness and elasticity.
HIFU is High-Intensity Focused Ultrasound, it uses medical-grade ultrasound energy for face lifting and skin tightening. Hifu is a non-surgical or non-invasive facelift treatment. Its HIGH-Intensity focus ultrasound delivers precise energy at the right depth of skin for connective tissue without damaging the epidermis.
HIFU works towards stimulating collagen and elastin synthesis and improves skin texture by firming and tightening skin and reducing the appearance of wrinkles.
Which areas can be treated by HIFU?
HIFU can treat, the forehead, eyebrow, cheek, jawline & neck. It also reduces the appearance of fine lines & wrinkles providing a more youthful appearance.
HIFU Treatment can be effective in the following areas –
Forehead frown lines
Eyebrows
Crow's Feet
Cheeks
Double chins
Sagging neck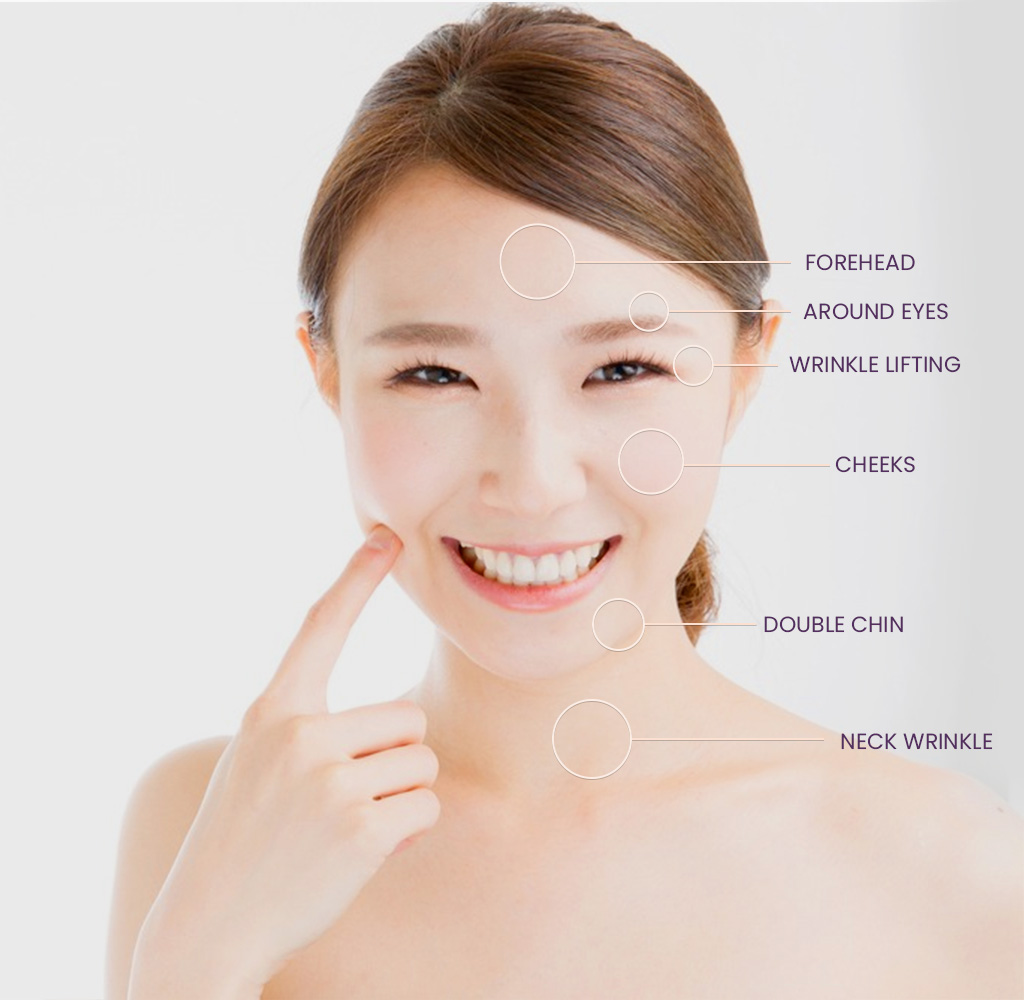 Benefits of HIFU Treatment
Hifu treatment reduces the appearance of wrinkles on and around the forehead, eyes, mouth
Lift and tightens facial skin
Hifu treatment improves skin elasticity
Lifts eyebrow lines & tightens forehead skin
Hifu treatment works on the double chin, eliminating jawline.
Enhance skin complexion making it brighter & youthful
Reduces neck wrinkles, protecting neck ageing.
How does HIFU treatment works?
HIFU works by delivering waves of ultrasound into multiple layers of skin tissues without damaging the surrounding skin area. HIFU aims to induce and strengthens collagen production while tightening the skin tissues. HIFU delivers ultrasound energy to the targeted skin area, and it stimulates collagen production.

How many HIFU treatments are needed?
The number of HIFU treatments needed typically varies from patient to patient, our Aesthetic Doctor can advise based on skin analysis.
How long does the HIFU Treatment last?
HIFU treatment results usually last for 12 months, as the skin continues to produce new collagen following the treatment and it can continue for up to 12 months depending on the patient's skin condition and lifestyle. but it can differ from patient to patient based on skin condition and skin ageing process.
Our Aesthetic Doctor can advise future touch-ups to continue avoiding the ageing process and the appearance of wrinkles & fine lines.
Is HIFU treatment painful?
Hifu treatment has minimal discomfort and slight pain due to heat sensation. The warm energy pulse causes contraction of muscle layers so it is mildly uncomfortable for some patients.
How soon the result of HIFU treatment can be visible?
Initial results of HIFU treatment can be seen almost immediately as HIFU provides an initial lift to the skin. And as HIFU will trigger the process of new collagen production, and repair of skin tissues results can be seen over the next couple of months.
Is there downtime for HIFU Treatment?
HIFU is a non-invasive or non-surgical facelift treatment, so it typically doesn't have any downtime.
How long is the HIFU treatment take?
HIFU treatment can be done in 60 to 90 minutes depending on the area that needs to be treated.
Who is a good candidate for HIFU treatment?
HIFU is a non-invasive facelift treatment for men & women with mild to moderate loose, sagging skin, uneven skin tone and wrinkles. HIFU treats the area around the eyes, and mouth, it reduces sagging skin on the jawline.
Reinstate your youthful glow without the surgery, pain or downtime with HIFU Treatment at NeuGlow Aesthetic Doctors