NeoGen Plasma Regeneration is a non-invasive procedure for facelifts, eyelifts, and acne by using the power of nitrogen plasma. Many people are not ready or willing to have surgery to gain a more youthful appearance, which is why Neogen Plasma Regeneration is the perfect alternative. It's long-lasting, with no or minimal recovery time.
What is NeoGen Plasma Regeneration or NeoGen PSR?
NeoGen Plasma is a skin regeneration treatment it uses plasma to deliver heat to the targeted skin area which needs to be treated without affecting other surrounding skin tissues.
Plasma is known as the fourth state of matter and it is generated using inert nitrogen gas and converted into activated ionised gas. It is effective for skin tightening, skin contouring, fading away age spots, fine lines and wrinkles. It regenerates new skin by replacing old damaged collagen and elastin.
What conditions can NeoGen Plasma treat?
Fine lines and wrinkles
Active acne/scarring
Drooping eyes
Stretch marks
Sun-damaged skin
Uneven Skin Tone
Open pores
Improves skin tone, texture, colour
Tightening shown in clinical studies
Improves acne scars
Control's acne
How does the NeoGen Plasma Regeneration (NeoGen PSR) work?
NeoGen plasma preserves the skin's outer layer which is the natural protective dressing until new healthy skin resurfaces beneath. It alters the structure at and below the skin surface ad created the right conditions for continued skin regeneration. And so, it improves fine lines, deep wrinkles, acne scars, discolouration and enhances skin laxity. NeoGen Plasma Regeneration also improves skin tone and skin texture.
What are the benefits of the NeoGen PSR?
Return to work the same day
No thinning of the skin
Allows the whole face and neck to be treated in a single session
Fast treatment time
One of the only ways to treat the eyelids without surgery.
Can be used over active acne with no risk of cross-contamination, unlike most other treatments.
Non-invasive, no anaesthetic or scalpels needed.
Significant cost savings compared to surgical treatments
What makes NeoGen Plasma effective?
NeoGen Plasma is effective as it treats all layers of skin. The aesthetic Doctor controls the depth of treatment by adjusting the level of energy delivered to the skin based on skin condition and personal requirements. This treatment treats entire skin structures to regenerate collagen production and remodelling entire skin surfaces.
It targets the first layer of skin to tighten the skin reducing the appearance of fine lines and wrinkles and pores reduction. It enhances skin texture and brightens skin.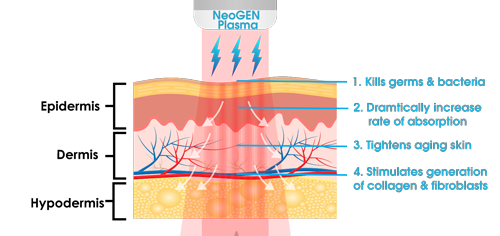 What can Neogen Plasma be used for?
NeoGen Plasma treatment rejuvenates the skin by resurfacing and stimulating collagen. It is a non-invasive facelift. It is useful for treating, sun-damaged skin, hyperpigmentation, pores, and acne scars.
Is the Neogen Plasma Skin Regeneration Treatment painful?
This treatment is painless. The aesthetic specialist may apply skin numbing cream for the high-powered procedure but usually is it painless and the patient can only feel a warm sensation.
Is there downtime for the Neogen Plasma Regeneration Treatment?
There is no typically long downtime for the treatment. Right after the treatment pinkish flush is visible over the treatment area. And mild dryness is felt for a couple of days. After high powered treatment slight flakiness is felt on the 3rd or 4th day.
How many sessions will I need for NeoGen PSR?
Treatment session requirement is determined based on the skin condition, and treatment area. Our specialist Aesthetic Doctor can recommend the required treatment session after a skin analysis and examination of the treatment area.